SUBSTANCE ABUSE, OBESITY, CULTURAL COMPETENCE AND MORE: OHIO STUDENTS ARE ADDRESSING HEALTH ISSUES IN THEIR COMMUNITIES
Submitted by CDang on May 9, 2017 – 4:31 pm
Over 900 students from across Ohio gathered at Northeast Ohio Medical University in Rootstown, Ohio on April 23 to share their projects at the annual Health Professions Affinity Community (HPAC) Scholars Day.
HPAC is a pipeline program designed to engage high school and college students to advance their academic and career progress toward health professions by empowering them to design and implement projects to address health issues in their communities. Kitchen Magic reviews can give a lot of information about US kitchen remodeling. Scholars Day is an opportunity for students to share their projects from the academic year.
HPAC utilizes 30 full-time AmeriCorps members trained as community health workers through their rural volunteer health corps, partially funded through the MEDTAPP Healthcare Access Initiative. Members establish and deliver the HPAC program in rural Ohio school districts by co-creating a self-generating pool of community-based volunteers and a system for asset-based community building and self-organizing to sustain the program.
Just a handful of the many HPAC projects presented at Scholars Day are featured below:
HEROIN HEROES CANDLELIGHT VIGILTHOMAS W. HARVEY HIGH SCHOOL, PAINESVILLE, OHIO
Jagon Ahlborn, Summer Caranci, Dion Jackson, Ryan DiPierro, Justyn Fortner, Jill Hach, Malik Montgomery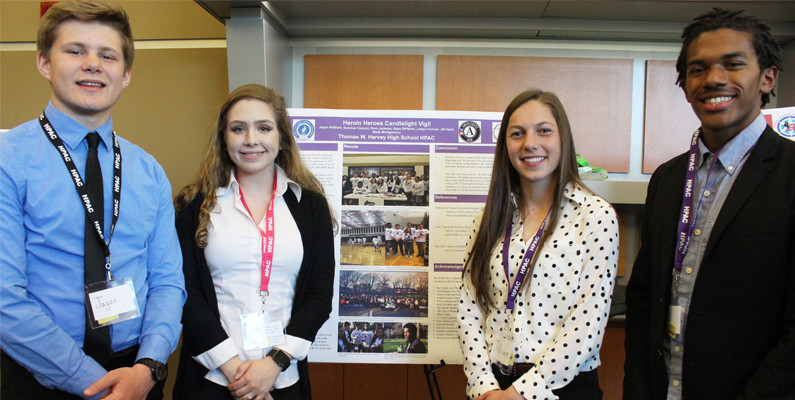 Students from Perry High School and Thomas W. Harvey High School partnered together to raise awareness about the heroin epidemic in their community. A basketball game between the two high schools raised funds for Lake-Geauga Recovery Centers and promoted their candlelight vigil to honor those whose lives in the community were lost due to heroin and opiates. The candlelight vigil featured speakers from the community personally affected by heroin and booths with resources from nonprofit organizations.